Frozen bananas and mini chocolate chips are all it takes to make this tasty little 2-Ingredient.
Banana Chocolate Chip Ice Cream Bites that are the perfect healthy treat!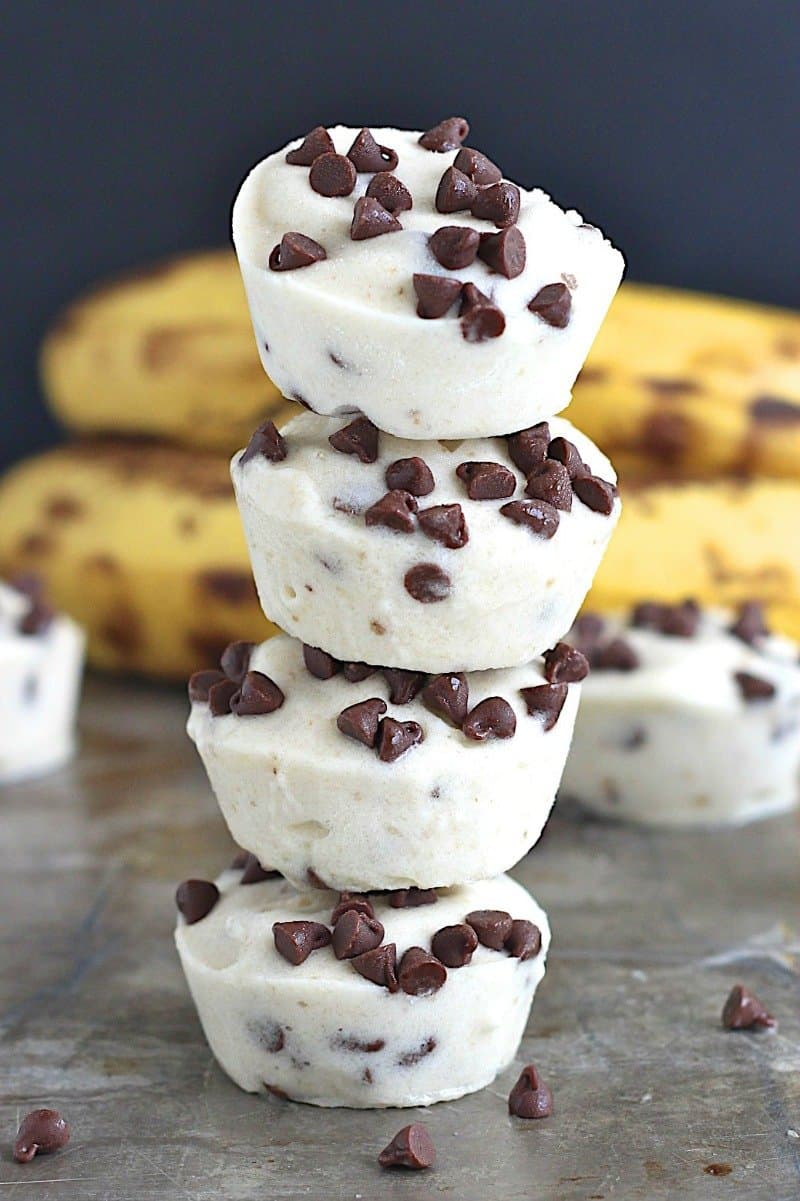 One of my favorite treats is the one-ingredient banana "ice cream".
I stock up on the bananas and as soon as they get a little overripe.
I'll slice them and freeze them so we can make banana ice cream anytime we get a craving.
The boys think it's real ice cream and is completely satisfied with it.
It's so much healthier so I'm thrilled they love it so much.
Well, as I was making a batch the other day.
And I was thinking how could I make this to where we already have it ready to go in the freezer and easy for the kids to eat.
It just dawned on me to try scooping the ice cream into mini muffin cups.
So the boys would have these little ice cream bites to enjoy throughout the day without having to use bowls or spoons.
They turned out great!
I threw in some mini chocolate chips for fun and extra yum!
Each bite is about two bites of creamy dreamy banana ice cream with a little crunch from the mini chocolate chips.
Here is the recipe Enjoy!
INGREDIENTS
6 very ripe bananas
3/4 cup mini chocolate chips, divided
---
INSTRUCTIONS
Line a baking sheet with parchment paper. Slice the bananas into 1/2-inch slices and lay flat on the parchment-lined baking sheet. Cover with plastic wrap and place in the freezer for 1-1/2 hours.
Remove frozen bananas from the freezer and let set out for about 5 minutes while you set up your food processor or blender. You want the bananas to softened just a bit but still, be frozen.
Place the bananas in the food processor and pulse/blend until smooth and creamy. Stir in 1/2 cup mini chocolate chips.
Grease a mini muffin pan with non-stick cooking spray. Scoop the banana ice cream into each cup, filling each one almost full, then sprinkle the top of each cup with a few more mini chocolate chips. Place the muffin pan in the freezer for an hour.
Remove the pan from the freezer and pop each bite out with a knife. Stack the banana ice cream bites in a freezer-safe container with a lid, placing parchment paper between each layer of bites to keep them from sticking together.
When ready to eat, remove however many bites you want from the freezer container and let set out for a few minutes before eating.